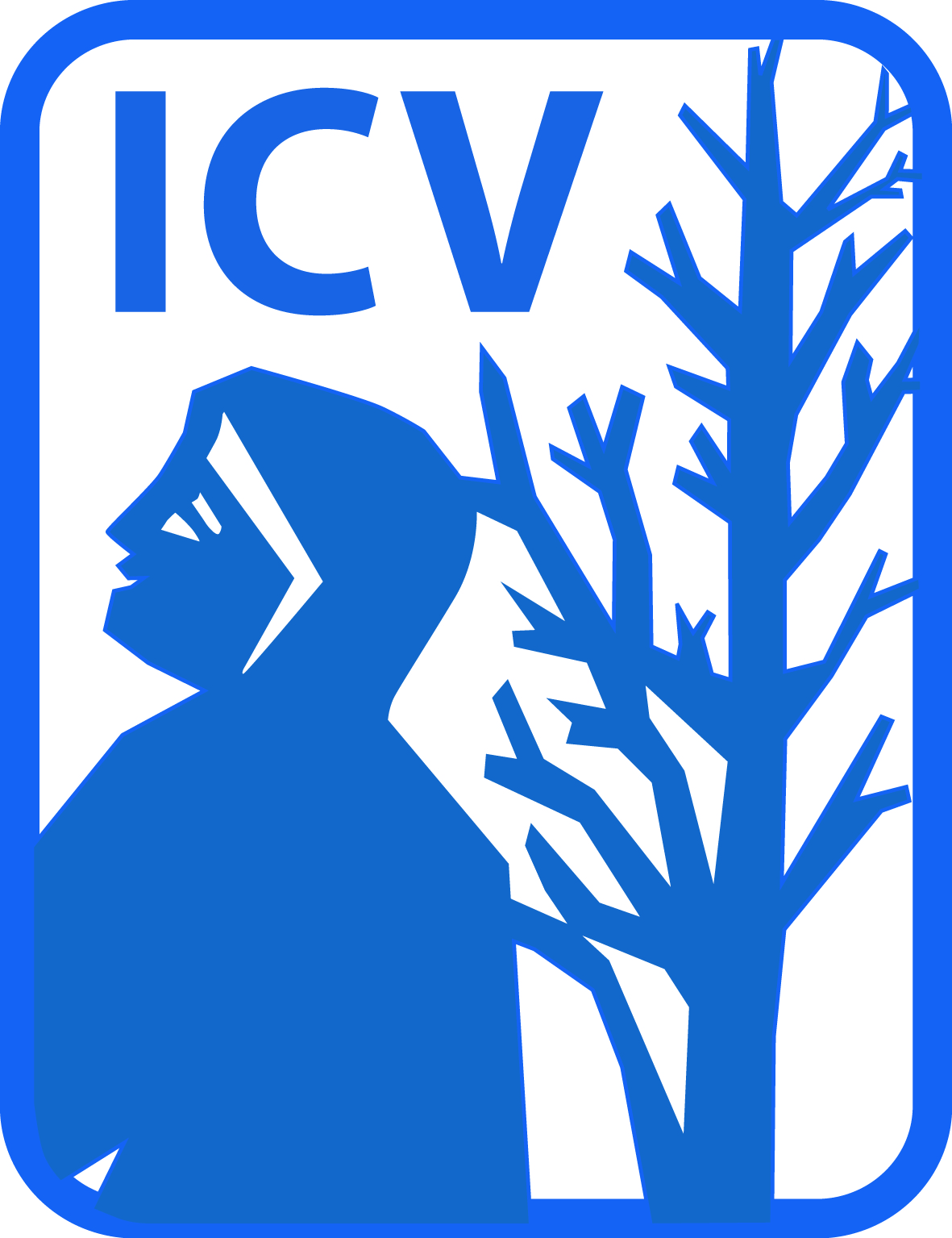 Iceland Conservation Volunteers (ICV)
Each summer about 100-150 international volunteers take part in the Environment Agency conservation programme. Together our volunteers now complete about 350-400 weeks of conservation work around Iceland every year.
The Environment Agency of Iceland (Umhverfisstofnun) manages 112 protected areas (out of 115) and hosts volunteers from all over the world and works closely with several international organisations.
It all began 35 years ago in Jökulsárgljúfur, Vatnajökull National Park, with a team of 15 volunteers from the British organization BTCV. Today, after more than 3 decades of hard volunteer work, if you visit Iceland's national parks and nature reserves, most of the time you will walk on natural trails built and maintained by our ICV volunteers, on traks way marked by our volunteers and you can enjoy restored landscapes damaged by human impacts.
Our volunteers live and work in some of the most beautiful parts of Iceland throughout the summer. They gain experience of a wide range of practical conservation while working closely with local staff and other international volunteers. Though our work is focused on the improvement, delimitation and maintenance of hiking trails, volunteers are involved in all aspects of practical conservation management in nature protection areas including wilderness and heritage management projects.
More information is available in the following pages. For enquires please contact us at: volunteer@ust.is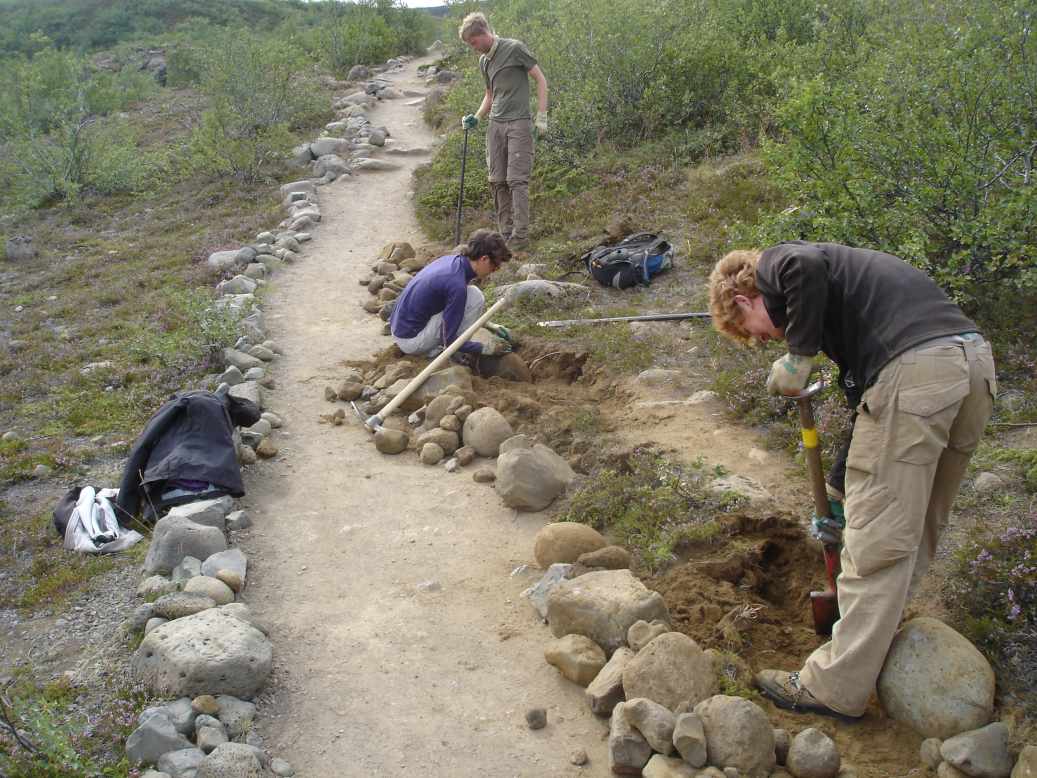 Hiking trail maintenance in Ásbyrgi,
Jökulsárgljúfur, Vatnjajökull National Park
Photo: Anna Lefering.
This programme is designed for volunteers who want to spend 11 weeks in the wilderness, visiting and working in several protected areas around Iceland, including the highlands. It represents the heart of our activities. The Environment Agency recruits directly the volunteers between January and February each year (See the links below). The placement starts at the end of May /beginning of June with a 10 days training programme in footpath maintenance and design using stones and timber.
Application deadline is 10th February
Trail Teams will work in repair and construction of bridges, boardwalks, drains and steps. Other tasks include ground clearance, drainage work and a great deal of digging. Trail Team support the work of local rangers, take part in wilderness restoration work, and sometimes also to the removal or invasive plants and their localization with GPS.
The dates for the next summer are:
Group A: 28th May – 12th August
Group B: 4th June – 19th August
For further information and for submitting an application, please visit the following links:
Volunteers doing stone drains by Dynjandi
waterfall in the Western Fjords.
A Trail Team moving big stones on Esja mountain
during the training week
Photo: Benjamin Jacobs
Photo: Reg Carremans
ICV volunteers taking a deserved bath in a lake by Eldgjá, Vatnajökull National Park.
Two volunteers working in the highland's Vatnajökull National Park.
Photo: Anna Lefering

Photo:

Benjamin Jacobs
An ICV team doing moss transplanting in Grábrókagigar Nature Monument, Western Iceland.
Here working with local rangers of Hornstrandir Nature Reserve, the most remote and untouched part of the Western Fjörds.

Photo:

Lee Dunn
Photo: Ruta Varinete
The lunch break by the Latrabjarg cliffs, the easternmost point of Europe. Listening to thousands of birds.
Sunny day on Esja mountain.
Photo :Kate Anderson
Photo: Kate Anderson
ICV volunteers wilderness camping in Hornstrandir Nature Reserve, far away from civilization, no hot water, no electricity.
Vounteers came from different continents to assist national park rangers. Here big lava rocks are used to make steps on a footpath, in Eldgjá, Vatnajökul National Park.
Photo: Adela
Photo: Anna Lefering
Due to short Icelandic summers, consevation work can only be done between late May and mid September.

We have three different short-term volunteer placements.


regularly scheduled holiday groups, recruited by our partner Working Abroad 2-4 weeks projects.
volunteer service groups (i.e. college students, group of eco-travellers who occasionally contact us directly at volunteer@ust.is ). We offer 1-5 days projects.




Holiday Groups groups are organised by our partner organisations who handle the booking of places. Holiday groups volunteers placements last two weeks each and are located in Skaftafell (Vatnajökull National Park. For further information and joining the holiday group please visit the website http://www.workingabroad.com/projects/iceland-volunteer and contact Working Abroad if you have any more questions.

Volunteer service group activities in Icelandic protected areas are organized in accordance with the availability and typology of the projects, and the volunteers' group requirements. We organize volunteers service projects for groups made by 5 to 15 people. Outdoor activities and camping experience is required.

The Environment Agency of Iceland, may also carry some conservation management projects within the protected areas with the help of volunteers from Icelandic organisations like SEEDS





A big Spanish group of travellers, members of Kreaktiva association, Madrid.
They volunteered a the Reykjanes Country Park,
Foot path maintenance byt the hot springs in Seltún and clearings.
Photo: Eckerd College 2012

Students from Eckerd College, Florida, volunteer in Skaftafell, Vatnajökull National Park, in Spring since 2007
Photo: René Biasone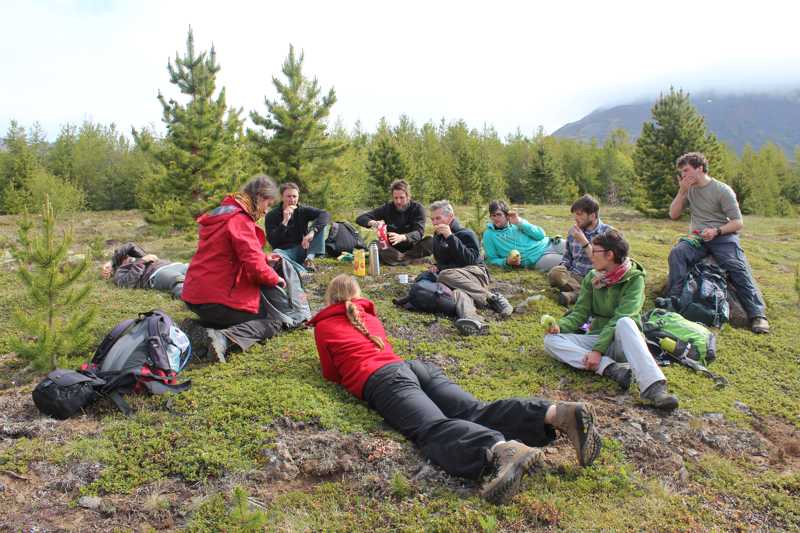 Two ICV Trail Teams gathering
around their team leaders.

Photo: Reg Carremans
Returning volunteers
Although the Trail Team programme runs for 11 weeks, shorter placements are available for volunteers returning to the ICV programme. The date of the placements are agreed with the applicants, and the participants may join the Trail Teams or, in the case of 3/4 volunteers coming in the same period, constitute a "Returners' ICV Trail Team".
Placements run for two to four weeks and follow the standard Trail Team format. They begin on Sunday and end on Saturday so that participants do not arrive or leave in the middle of projects. The participants will need to arrive in Reykjavik on the day before their placement starts. We regret that ICV cannot provide accommodation for participants arriving before the start of their placement or staying on after their placements are completed. Within the placement's period, accommodation, food and transport are of course provided.
Please note that Returning Volunteers places are very limited.
General ICV Trail Team terms and conditions (costs, equipment, insurance, etc.) apply and further information about the ICV Trail Team programme can be found in the Trail Team Programme Outline.
To apply please send an email to volunteer@ust.is before 10th March.
Team Leaders
Volunteer leaders who have already led an ICV trail team or a holiday group in Iceland are always very welcome. Volunteers with experience in leading teams in other countries than Iceland who would like to lead ICV teams may also contact the coordinator and discuss further steps. We usually would like them to join our annual Leaders' training course held in mid March. Please contact: volunteer@ust.is
The Environment Agency of Iceland also organizes, at regular basis, workshops and trainings for both new and experienced team leaders. Volunteer leaders who are already in our database will be contacted to participate to these activities.
Roger Whysal organizing the teams during the training week.
Roger, besides leading trail teams, has contributed enormously to the development of the ICV trail team programme
Coordinator Assistant Elise Lepine and volunteers' leaders
Niall Sweeney and Lee Dunn setting up signs in Vatnshornskógar la nature reserve.
Photo: René Biasone.
Photo: Niall Sweeney.
Team leader Amy Davidson assisting the coordinator
in Þórsmörk (South of Iceland).
We brought another volunteers' leader
Kyle Bradshaw to his next location beyond the river Krossá.
Photo: René Biasone.
About Iceland

Travel information

One of our station wagon filled up with the equipment of 5 volunteers
ready to move from a national park to a nature reserve, around the island.
Photo: Anna Lefering.

About the volunteer programme

News, pictures and discussions

During the weekend ICV Trail Team volunteers have the opportunity
to hike and enjoy the most beautiful landscapes of Iceland.
Photo: Anna Lefering.
Conservation Volunteer Alliance (CVA)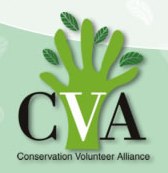 The Environment Agency has been a member of the Conservation Volunteers Alliance. CVA was an affiliation of European environmental volunteering organisations established in 1999 as a not-for-profit organisation, registered in the United Kingdom.
Conservation Volunteers Alliance has been the voice of over a million volunteers throughout Europe working in local communities, taking practical hands-on action to conserve and improve the health of our environment.CVA stopped its activities in 2015.
In partnership with CVA, since 2011 the Environmental Agency of Iceland organizes the Big Green Weekend every October. Since 2015 organises the "Græna Helgi", á continuation of this project with Icelandic high school students and their teachers.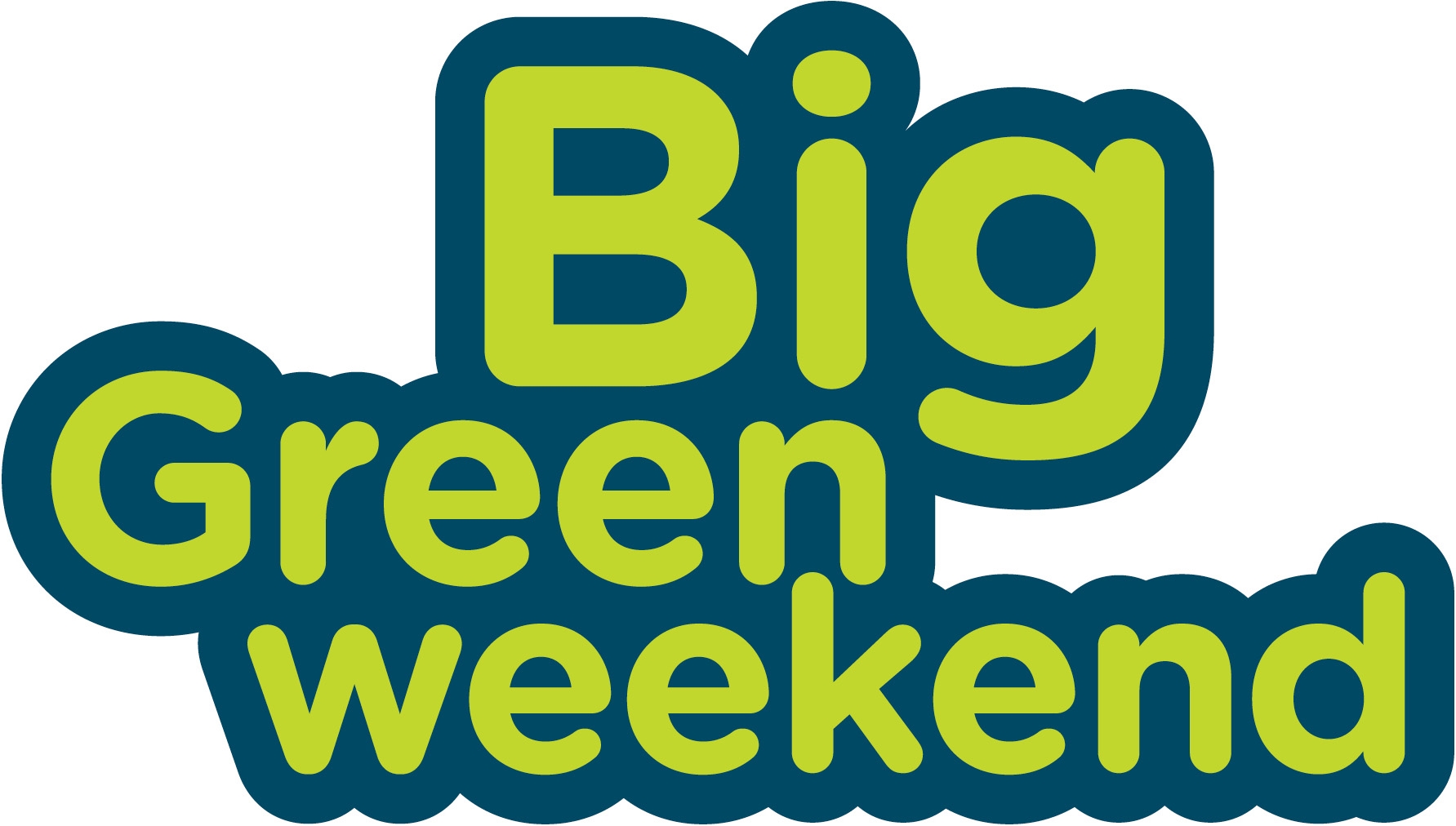 Environmentjob

We have our application available at the website environmentjob.co.uk.
Other projects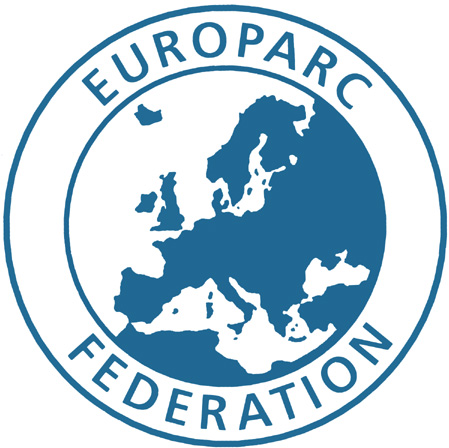 Grundtvig – Learning partnership project
This project began in 2008 and is made up of eight partners. The project is being coordinated by EUROPARC Germany and other the partners are from Latvia, Rumania, Lithuania, Spain, Italy and UK. The aim of this project is to establish an international network that involves both our staff and volunteers in workshops and exchanges.
One of the main objectives of the partnership is to improve volunteer project management by learning from each other.
Passport to Environmental Training and Learning (PETAL)
Leonardo da Vinci – Transfer of innovations project
The Environment Agency has received Leonardo funding to develop support and assessment materials within theEuropean Qualifications Framework for Environmental Conservation. The project will bring existing materials together and reformat or produce new materials to enable partners in each country to provide accredited training for staff and volunteers.
Environments for Learning II, Validation and Accreditation
Leonardo da Vinci - Community vocational training action project
The project began in 2005 and was coordinated by BTCV and received EU Leonardo da Vinci funding. Our partners include organisations from Estonia, Bulgaria and Greece.
The aim of this project is to reward people who are volunteering in environmental work by giving them the opportunity to have their work officially validated, recognised and accredited. Development work here in Iceland has focused on hiking trail design and maintenance and volunteer team leadership training.
Socrates programme
This was the first European project that the Environment Agency volunteer programme was involved in. The partnership ran from 2003 to 2005 and the project's aim was to promote lifelong informal learning through environmental volunteering.