Useful information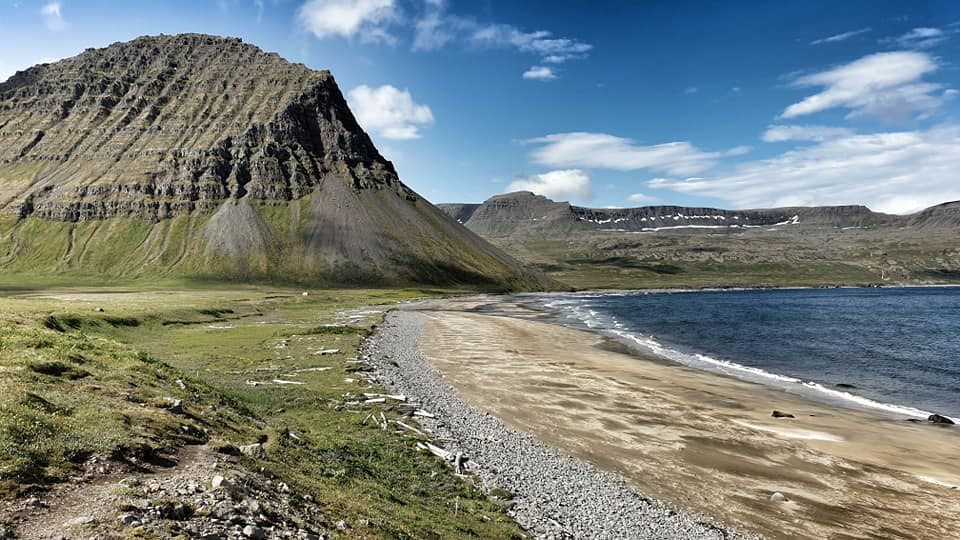 Guest information – Travelling in the area – Useful information – Points of interest
The most common access to Hornstrandir is by sea. There are scheduled departures from Ísafjörður, Bolungarvík and Norðurfjörður at Strandir to the area. One can also get there by land from Ófeigsfjörður at Strandir or from Dalbær at Snæfjallaströnd.
There are two landing strips, both not registered and without any equipment, at Látrar in Aðalvík and in Fljótavík. Landing of helicopters is not permitted in the nature preserve.

In time when vegetation, the biosphere and footpaths are all fragile, all activity in the area must be registered electronically with the Environmental Agency, or from March 1st to June 15th and from September 1st to November 1st each year. This obligation does not apply to the travels of home- or landowners.
The main paths of Hornstrandir are marked with cairns, but guests can easily miss cairns in strange surroundings and therefore it is essential to have a good map and compass or a GPS device along. The area is foggy and sometimes difficult to navigate. Rivers can be difficult to cross in times of heavy rain and there is considerable snow in the area year around. Snowdrifts can be steep, especially in early summer. Great care must therefore be taken, especially in poor visibility.

Before departing on a walk in Hornstrandir, good preparation is essential. Good maps are necessary and you need to familiarise yourself with issued guidelines and instructions, look at weather forecasts and leave a travel plan behind. Weather can be widely variable in the area and it can change quickly. The proximity to the open ocean is of great influence, and fog and cold can appear quickly. One must always figure on frequent and sudden weather changes during the day, and protective clothing and equipment must along for that purpose. Travellers must bring tents and water-proof clothes are essential. One must bring all food along. Delays need to be taken into account, and extra food must be included in such cases. Further information can be had from the Environmental Agency and the Tourist Information Centre at Ísafjörður and Hólmavík.


Weather information – www.vedur.is
A travel plan may be registered at Safetravel – www.safetravel.is

Camping is only permitted in designated areas in the nature preserve. There are fourteen campgrounds provided by the Environmental Agency at Hornstrandir as well as two privately-operated ones. See map.
There are either dry latrines or water toilets at the campgrounds.
Landowners are permitted to have tents on their land and must thus provide toilet facilities for their guests.

Due to vegetation protection, one can only pitch a tent at the same place for one week at a time. After that, guests are required to move the tent within the campground or remove it altogether.

The Environmental Agency has facilities for their park rangers at Höfn in Hornvík and at Hesteyri. Rangers are always willing to provide information to guests.

Other services in the area
There are tourist services provided in the Doctor's House (Læknishúsið) during the summer, where overnight accommodation and food can be bought.
Ferðafélag Íslands (The Icelandic Tourism Society) operates at the Hornbjargsviti (Hornbjarg Light House) from the end of June until August.

Rules when traveling in Hornstrandir nature reserve
Do not leave behind any sign of your visit. This means that all rubbish must carried back. Do not build cairns, rearrange stones or move stones or driftwood up to the camping area.

Use paths whenever possible. If necessary to leave the path, watch where you step and try to protect the vegetation and the bird life. Only use walking poles where necessary.

There are limits to the size of tour groups. The maximum is 30 on the western part of the area and 15 on the eastern part. Hornstrandastofa visitor centre can in special cases provide exemption from that rule. Contact Hornstrandastofa to get information regarding the exemptions from the main rule.

Only pitch tents in designated campgrounds. Due to vegetation protection, camping is only permitted on designated campgrounds for one week at a time. After that, the tent must be moved or removed.

Everyone should use the toilets/latrines. All campgrounds have toilets/latrines and are guests encouraged to use toilets/latrines in the area whenever possible. Help us keep the facility clean. Hygiene products should not be left out in the open.

Handle stoves and other cooking equipment with care. Campfires are banned within the nature reserve.

Do not disturb birds or animals unnecessarily. If you find yourself near a bird nest or animal habitat, keep noise to a minimum and slowly walk away from the animal.

Respect the fox. Stay at least 40 metres away from fox dens and try not to linger more than 20 minutes by a fox den (in the distance of 40 m or more). If one needs to pass by a fox den, it must be done quickly and as silently as possible and not stop until 40 metres away. Avoid getting in between the vixen and her cubs. Do not feed the foxes.

Respect the privacy of homeowners in the area. Keep away from their homes. Do not peek at the windows and do not enter homes uninvited.

Dogs are not allowed in the area, but land- and homeowners are allowed to bring their dogs. Dogs must always be kept on a leash.

Bicycling is not allowed in the nature reserve.

Drones are forbidden, unless with a permit from the Environmental Agency.